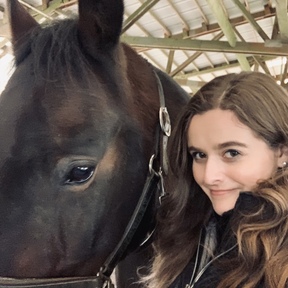 Hi!I'm Marissa! I have been a professional nanny for the last 12 years and I love children. My hobbies include boating, singing and.... HORSES . I am a member of a club in the seattle area and I have access to 7 horses and 15 acres, and I have tons of fun adventures out there! And I was thinking, it would be so fun to share that experience and my horse knowledge virtually with children stuck at home this summer! So if you have a kiddo who may want to spend some time at a horse ranch via zoom and learn about horses and help me pick a horse out of the barn and learn about horse care and safety and watch beautiful horses, walk trot and maybe even canter.... let me know! Maybe your kiddo will be really well behaved, and answer some questions correctly about the things they have learned and earn a couple carrots or apples or "horse cookies" to give to the horse of their choice!
And parents can have an hour or two to get done what needs to be done!
Stay healthy and Stay safe!
Kindly,
Marissa
$30 Per hour with 1 hour minimum to be paid when booked. 3 hours maximum.
Ages: 5+ would likely benefit from this experience the most :)
Cancellation Policy: Cancellation Policy: At least 24 hours before session, will refund $30. No refund if less than 24 hours notice.
Available Time Slots:
Tuesdays: 11am-3pm
Thursdays: 11am-3pm
Saturdays: 11am-3pm
Sundays: 11am-3pm
Platform: Zoom
Please note: This is a virtual experience and a parent needs to be home and responsible for the safety of their child in case of emergencies.
No followed people